Foodpanda Bangladesh Limited Job Circular 2022
Foodpanda Bangladesh Limited Job Circular 2022 has been published on daily online job portal and ranked as the best job recommendation website by deshtribune.com.
Amway, we would like to inform you that Foodpanda is the most popular food delivery site in Bangladesh. with a safe and convenient payment system.
The good news is that the company is just starting to look for a new position for the company. Check and Apply now!!
Foodpanda Bangladesh Limited New Job Circular Requirements
Company Name:
Foodpanda Bangladesh Limited
Post Name:
Partnership Senior Executive

Warehouse In-charge/ Assistant Warehouse In-charge

Published Date
 12 May 2022
Application Deadline
19 May and 9 June 2022
Number of Vacancies: 
N/A
How To Apply 
Follow Job Circular Image
Age Limit
Follow Job Circular Image
Educational Qualification
Follow Job Circular Image
Experience Requirements
Follow Job Circular Image
Salary
Negotiable
Job Category
Private Company
Job Location
Anywhere in Bangladesh
Job Nature
Full Time
Job Source
Online Newspaper
Other Benefits
 As per Company Policy
নতুন নতুন নিয়োগ পাবেন এখানে
নতুন চাকরির খবর পেতে যুক্ত হন
ফুডপান্ডা বাংলাদেশ লিমিটেড চাকরির বিজ্ঞপ্তি ২০২২
We've now added a Foodpanda Bangladesh Limited Job Circular 2022 image, which makes it easier for us to understand the task. Please check the image below and follow the application process.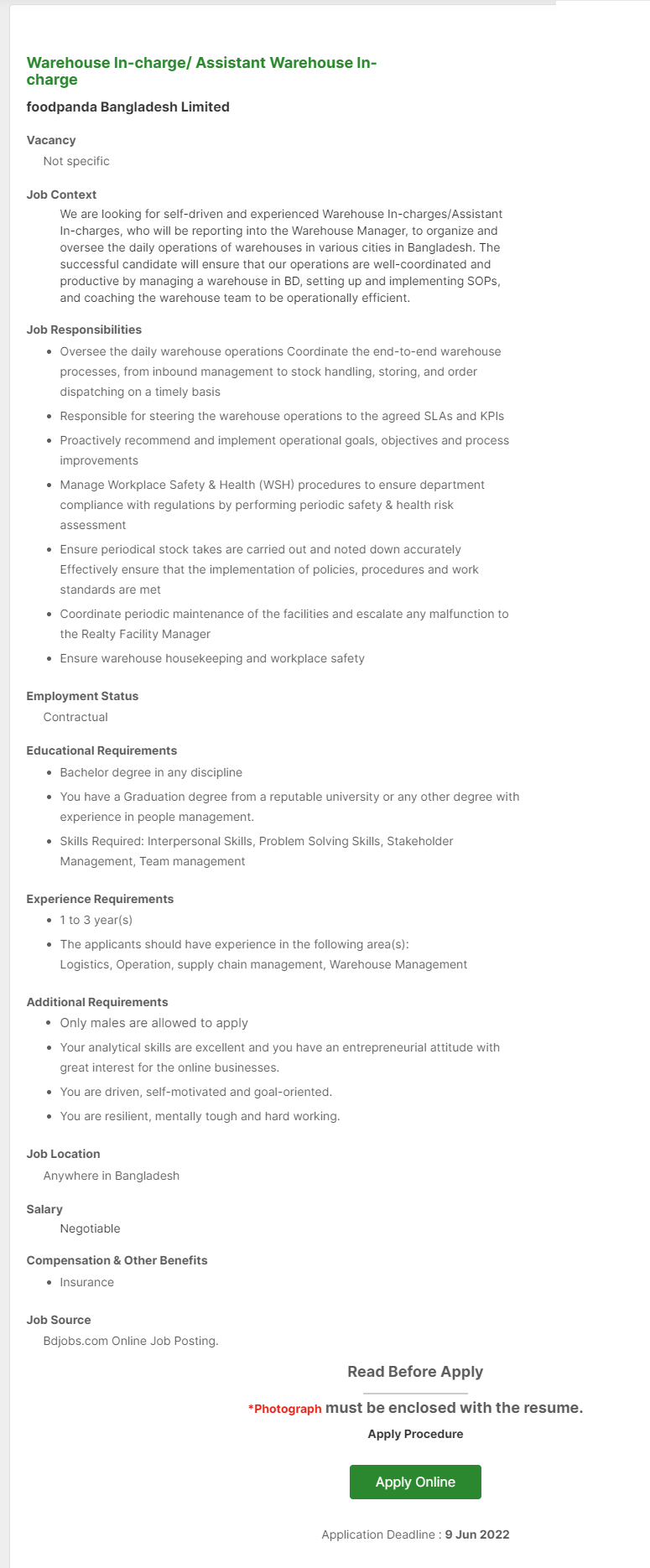 ■ Application Deadline: 9 June 202
If you are interested in these jobs Please apply to bdjosbc.com, however, if you want to find more part-time jobs. To be able to contact deshtribune.com, We hope you get the latest information on all kinds of job opportunities such as Private Job, Banking job circular , Government job circular, Job and Exam Results. Thanks.
Foodpanda Job Circular 2022 Apply
All job seekers looking for a job at Foodpanda Bangladesh Limited must definitely apply online at Foodpanda in order to get a job. Applicants must complete the application process within the deadline and follow the full instructions in the legal notice during the application process.
So, if you are interested in Foodpanda Bangladesh Limited Job Circular 2022, fill out complete the application form with relevant details and complete your CV in a timely manner. Update all information provided. Then click on the "Submit" button, consider make sure that the information on the application form matches your identity card.
Foodpanda Bangladesh Limited Job Circular 2022 Application Form
To job for Foodpanda Bangladesh, you must complete the Foodpanda Bangladesh Limited Job Circular online application form. We have provided a link to the Foodpanda application form above. by clicking on this link. You can easily apply for a Foodpanda position in your desired location. Click on the Foodpanda Job Circular 2022 job link to apply for the job.