Kazi Farms Group Job Circular 2022 Apply Here
Kazi Farms Group Job Circular 2022 are posted by bdjobs and holiday details can be found on the deshtribune.com website. Kazi Farms Group is one of the largest agro-industry groups operating in several business areas. including poultry, hatchery, feed mill, ice cream, frozen food, information technology. and television broadcasting
The good news is that Kazi Farms Group has recently found a number of employees, so if you like job in the private sector. You can apply. Let's take a look at the Kazi Farms Group 2022.
Kazi Farms Group Job Circular 2022
We believe that Kazi Farms Group Job Circular 2022 is the best job news for job seekers. Especially those who are looking for new privet job circular in Bangladesh.
Now, we have made every personal job assignment to inform users otherwise HSC Pass, SSC Pass, MBA Pass, Engineer, Graduate Pass students can apply for the job.
Without a doubt, Kazi Farms Group Bangladesh is the best private job agency for everyone. If you think you qualify for this job. Get involved by following the application process.
Kazi Farms Group New Job Circular 2022 Requirements
If you want to apply for a new job at Kazi Farms Group , you need to know the job circular requirements. Below are all requirements, including job, position, job level, education, application, experience requirements, salary, application deadline, and more.
Take a look at the requirements of Kazi Farms Group BD Job Circular 2022 and apply before anyone else.
■ Organization Name: Kazi Farms Group.
■ Position Name: Manager/ Sr. Manager – Audit
■ Publication Date: 5 April 2022
■ Application Deadline: 12 April  and 2 May 2022
■ Salary: Negotiable
■ Number of Vacancies: N/A
■ Educational Requirements:  Masters/MBA from a reputed University
■ Experience Requirements: N/A
■ Age: N/A
■ Job Types: Private Company Job
■ Job category: Full time.
■ Job Location: Dhaka
■Other Benefits: As per company policy.
■ Jobs Source: Online Job Portal.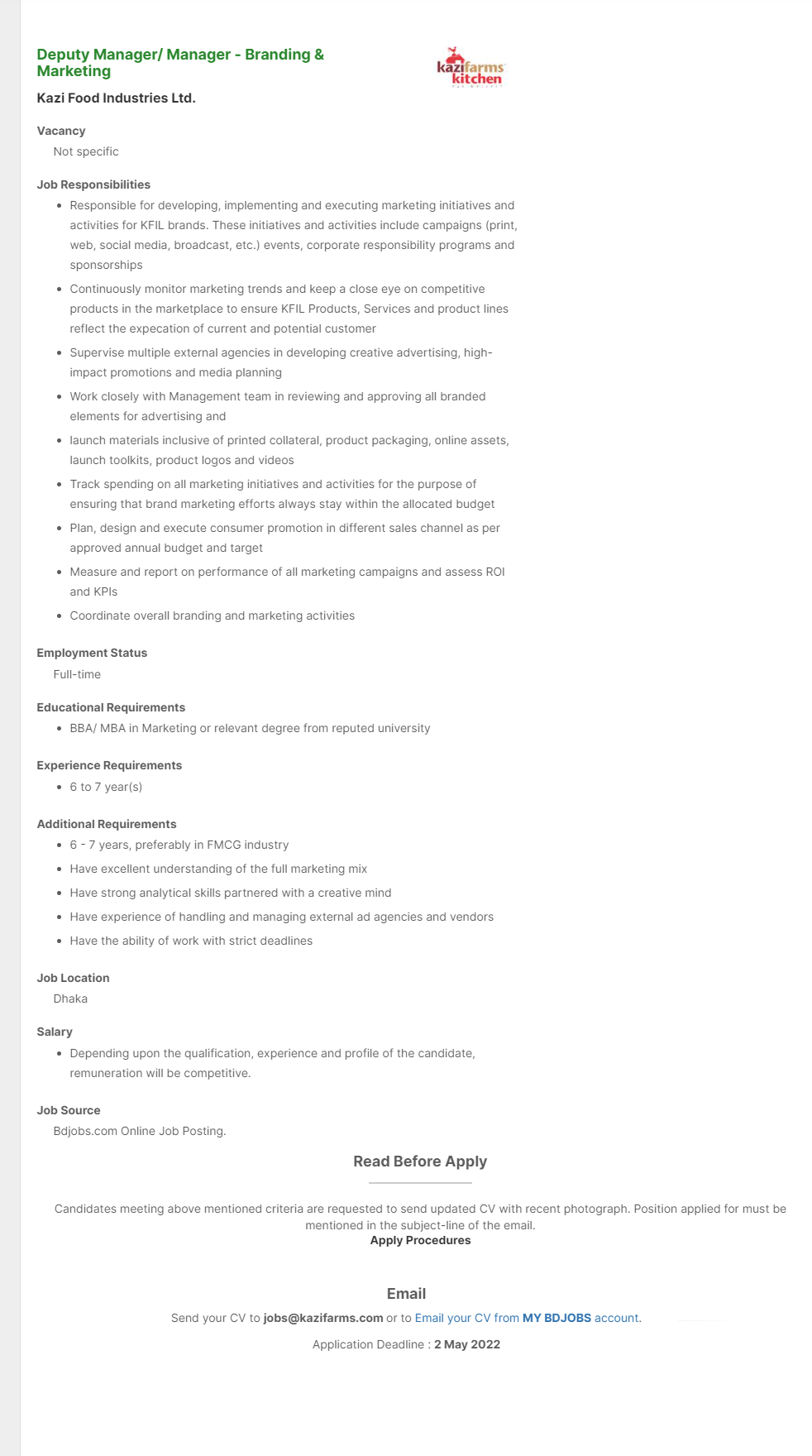 ■ Application Deadline: 12 April  2022
Send your CV to [email protected]
Application Deadline: 2 May 2022
Kazi Farms Job Bangladesh Apply
We believe that Kazi Farms Group will come into effect after revised position for 2022 in Bangladesh.
in any case To apply for the vacancies that will be shown in the post above. and if you want more information. Please go to the official website https://www.kazifarms.com where you will find subscription information such as email address and physical address chalk address .
If you have any issues with the Kazi Farms Group Job Circular, please let us know.
Kazi Farms Group is one of the largest agro-industrial groups in Bangladesh. If you want to latest Private jobs circular news with the right time to connect with deshtribune.com. We Make sure all types of latest jobs, news/ information such as all private bank jobs, news, private university lecturer jobs in Bangladesh embassy jobs in Bangladesh, prothom alo jobs, government, and jobs in Bangladesh, most recent jobs in Dhaka,