Civil Surgeon Office Job Circular 2022
The Bangladesh Civil Surgery Office announced today that the Civil Surgeon Office Job Circular 2022. The position of Civil Surgeon in 2022 will be published for the first time on the department's website: www.dghs.gov.bd. Circulars on the job of civil surgeons in 2022 are also available at www.deshtribune.com.
Here you can easily and quickly get information about civil surgeon job news published by Bangladesh Civil Surgeon Agency.
We have shared all the information about the Civil Surgeon Office Job Circular 2022 such as applications, official download links for job postings, PDF, payment deadlines and more, so read the Civil Surgeon 2022 job news if you are interested in a job at BD Govt.
Civil Surgeon office Job Circular 2022
Are you looking forward to new vacancies this week? If your answer is "yes" then you are right. Civil Surgeon Office Job Circular 2022 has set a new date for applicants in Bangladesh. In fact, civil surgery job circular has very attractive positions in Bangladesh. The Civil Surgeon Office Information Leaflet includes a download. Download Exam Results and the application form you can download from this page.
There is no doubt that the current Bangladesh Civil Surgeon job is a good and safe job in the Government of Bangladesh. Don't waste time trying to find interesting jobs in the community. Then just apply for a position at the Civil Surgeon Office Job Circular 2022.
Review the application, use the method, and use all the information shown in the task diagram below. This promotional image is published by the Office of Civil Surgeons.
Civil Surgeon Office Job Circular

Employer
Civil Surgeon office
Employer Type
Govt
Jobs Type
Full Time
Jobs Category
BD Govt Jobs
Jobs News Source
Online
Publish date
27 May 2022
Gender
Both men and women
Number of Vacancies
153
Qualification
See in the below image
Apply systems
Post office
Apply start date
Already start
Application apply the last date
16 June 2022
Official Website
www.dghs.gov.bd
Salary
See in the job notice
 Civil Surgeon Office Job Circular image
The surgery office will label the original resolution as a circle by converting it into an image. Here you see a picture of the Civil Surgeon office.
in the picture below, You will find all important information about civil surgeon authority circulars like how to apply, salary, exam schedule etc. You can also download the civil surgeon circular issued in 2022 below.
Khulna Civil Surgeon Office Job Circular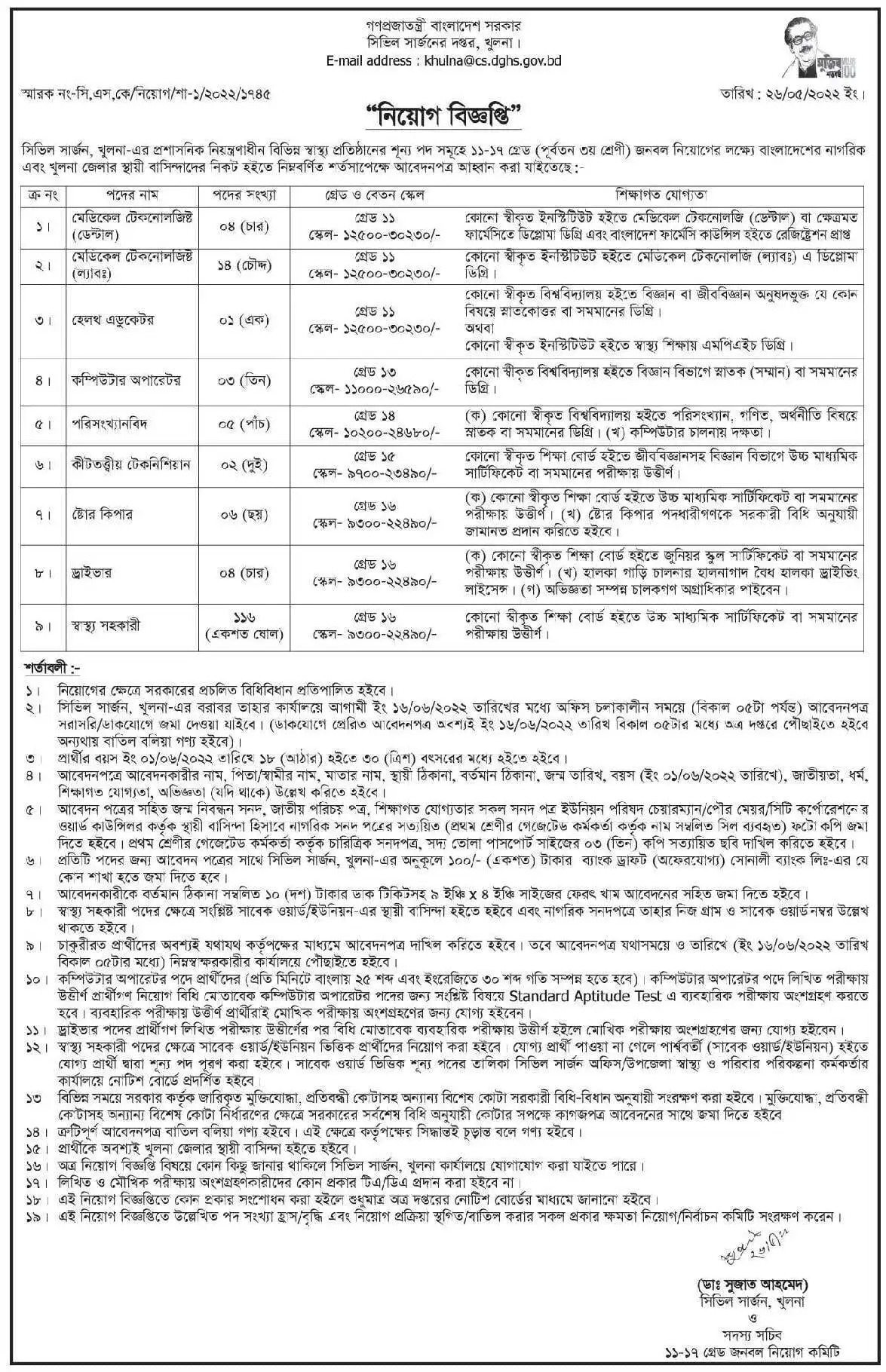 Source: Prothom Alo, 27 May 2022.
Last Date: 16 June 2022.
Civil Surgeon Office Job Apply method
It's time to talk about the Civil Surgeon Office Job Circular . The most important part of using the applied method Applying for a civilian surgeon position is easy by mail. See all application information and review above from the Civil Surgeon Office.
Here we will get Bangladesh full time jobs in 2022 like part time jobs in Bangladesh, round Bangladesh jobs today, college jobs in Bangladesh, today jobs in textile and garment industry, jobs. in pharmacy, university jobs, jobs download pdf defense in Bangladesh exam results.