City Bank Limited Job Circular 2022
City Bank Limited Job Circular 2022 is posted on the daily job portal at badjobs.com and all information and application procedures can be found at www.deshtribune.com .
Reference: City Bank Limited is one of the private commercial banks. The oldest and fastest growing non-governmental (non-government) company in Bangladesh. Founded on March 28, 1983.
City Bank Limited provides full banking services to the citizens of Bangladesh with 127 branches and serving over 748,000 customers.
The good news for job seekers is that City Bank recently narrowed its search to smart, team-focused people who want to be part of their corporate banking team. by giving people the tools they need to achieve their financial goals.
So, if you are interested in the City Bank Limited Job Circular 2022, you can check all the details here. Apply now!!!
City Bank Limited Job Circular Requirements
Company Name:
City Bank Limited
Post Name:
Customer Service Executive (Temporary), Call Center
Job Published Date
31 October 2022
Job Application Deadline
05 November 2022
Number of Vacancies: 
01 + 01
How To Apply 
Please, Click On Below Apply Now Button
Age Limit
Follow Job Circular Image
Educational Qualification
4 years of Graduation/ Masters in any discipline from a reputed university.
Experience Requirements
Follow Job Circular Image
Salary
30000/- (Monthly) BDT
Job Category
Private Bank Job
Job Location
Anywhere in Bangladesh
Job Nature
Full Time
Job Source
Online
Other Benefits
 As per Company Policy
Bank Information
Company Name
City Bank Limited
Company Type:
Private Bank
Official Website:
www.thecitybank.com
সিটি ব্যাংক লিমিটেড চাকরির বিজ্ঞপ্তি ২০২২ ছবি
To understand every detail of the job You should have a look at the City Bank Limited Job Circular 2022.
We understand the importance of a 360 degree view of the race. That's why we try to create beautiful, clear and good images so that everyone can easily read and understand all the information.
Attached is a photograph of the Strands bank job circular, look at and send a notification to sign in instead. Hopefully it's not difficult to understand the news review of City Bank job circular 2022.
Submit the application form by the due date for City Bank Limited Job Circular 2022 Requirements.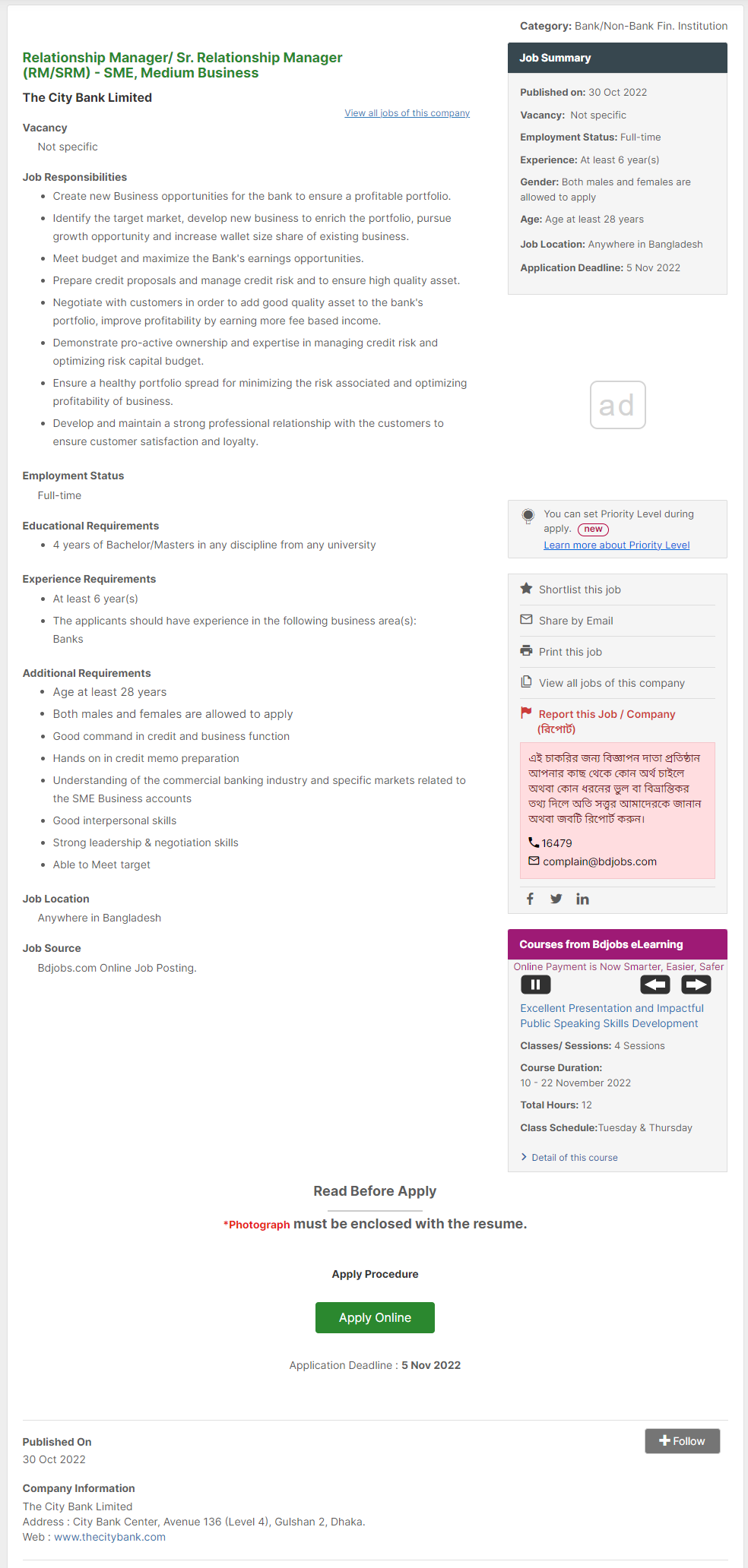 Application Published Date: 31 October 2022
Application Deadline: 05 November 2022.
Apply Method: Online.

City Bank Limited Job Circular -www.thecitybank.com
City Bank Limited Job Circular 2022 is one of the top banking jobs for job seekers looking for private banking jobs in Bangladesh Banking. HSC Pass, SSC Pass, Pass 8, Graduate, MBA pass applicants can apply for 2022 position, we need. Informing you that City Bank Limited is a private bank in Bangladesh providing various financial services in Bangladesh. The good news is that City Bank Admin office is looking for a new position in a variety of roles to fill Bank Zero.
City Bank BD Career Job Circular Requirements
If you want to apply with City Bank Limited Job Circular, you must know the job application. All requirements below including date of announcement of vacancies, job title, position and type of application, job category, restricted occupation at city Bank, job level, eligibility requirements, application, experience requirements, additional job requirements, salary, Age limits, application deadlines, website addresses, job sources, etc. Check out the City Bank Limited Job Circular requirements and apply first.