Border Guard Public School Job Circular 2022 – www.bgpscsylhet.edu.bd
Website: www.bgpscsylhet.edu.bd Recently published a circular about the Border Guard Public School Job Circular 2022, it is the subject of the government revolving job. Public job vacancies in Bangladesh are very attractive nowadays. So Bangladeshi young people job seekers who are always looking for community jobs. So here they can try community service if they are qualified and want a different experience. Attachment This is the BGB Jobs Circular 2022 .
Attached is a Border Guard Public School Job Circular 2022 as an image file. Please note that job experience is required. So check it out if you can. If you are applying for the position, Do not delay in applying as the organization will stop accepting applications today if there are suitable applicants. Additionally, the State School of the Border Guard may select applicants if there are significant applicants. You can tell your friends about holidays if they are eligible and can apply for any position. Now carefully examine the image file.
BGB Public School Job Circular 2022
Therefore, you should now complete the Border Guard Public School Job Circular 2022 online application form and finally submit your application. But make no mistake when writing your name. Other informational spells and your birthday. All information must be consistent with your scientific . Tell your friends and family about the job too. This will help others. They may also ask if they need a scientific qualification, while others need experience, leave the rest like us so that we can consistently produce beautiful job for you. thank you for being with us.
Position: Different position 

Number of vacancies: 03
Grade: 9th
Closing Date: 05 June 2022
Applications should be submitted by the regular post office.
Please do not send a CV in an email.
You can see the job circular for details
 Border Guard Public School and College & College Job Circular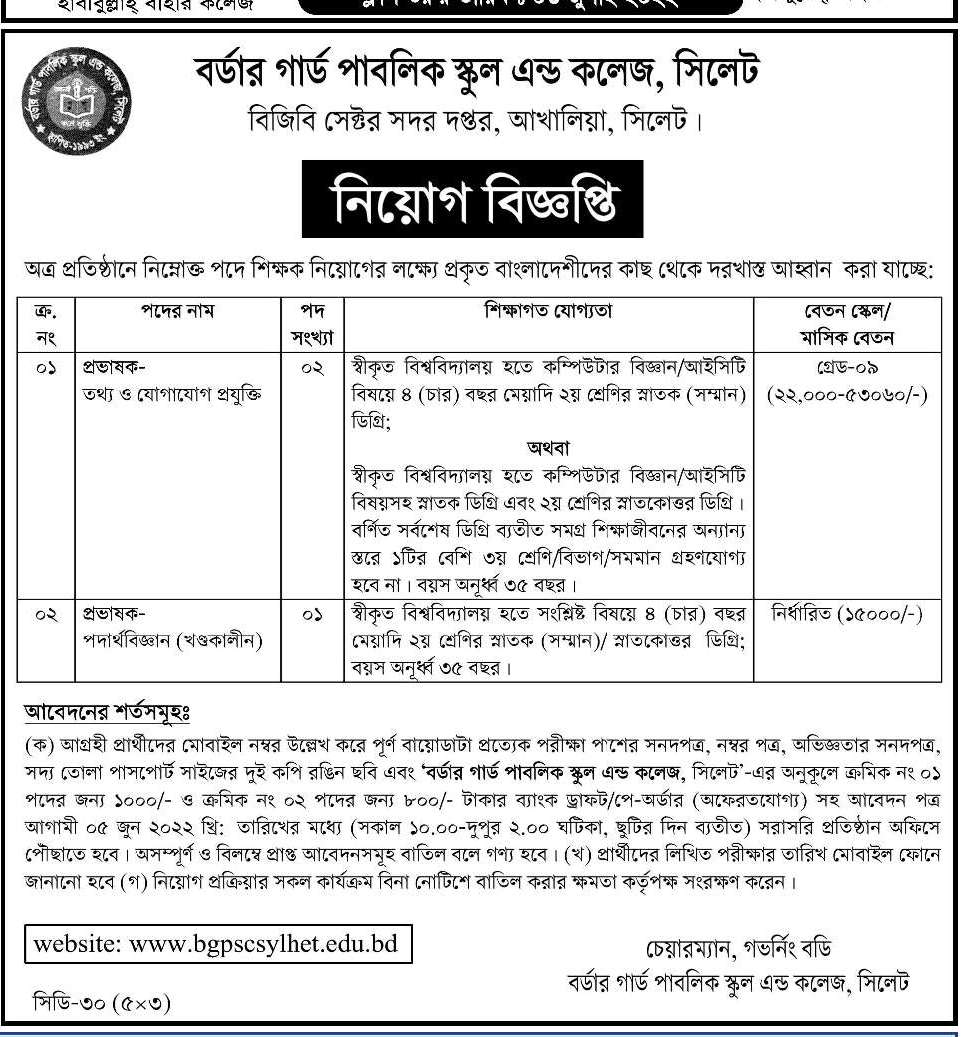 Source: Ittefaq, 22 May 2022
Application Deadline: 05 June 2022
For information about the Border Guard Public School Job Circular, visit the website. deshtribune.com. However, if you want to apply for a job You must apply by June 5, 2022. The Government Schools and Border Patrol College 2022 .Employment Program has been converted to an image file so that anyone can easily read or download this job circular.