Bangladesh ARMY Job Circular 2022- Apply online
Army Job Circular 2022 has been published on www.army.mil.bd for those aspiring to join the Bangladesh Army. Those who dream of joining the Bangladesh Army can apply for this city of 2022 at www.army.mil.bd. The Bangladesh military has launched the operation and asked for qualified person to bring in troops. If you want to join Bangladesh Army in 2022, please read Bangladesh Army 2022 Military Service Level Notice.
www.army.mil.bd 2022 One of the best security services in 2022 in Bangladesh. Most of the educated and mature people of Bangladesh are waiting for the release of the Bangladesh army in 2022 by the authorities. We have published the 2022 military service announcement for all of you on our website.
ARMY Job Circular 2022
Bangladesh Army Job Circular 2022 has been published on our website for Bangladesh Defense aspirants. Since Bangladesh Defense Job is one of the government jobs in Bangladesh for those who work in Bangladesh Defense in 2022, you can check Bangladesh Army Job Circular on our website.
I have noticed that many young Bangladeshis want to work in the Bangladeshi army because a career in the Bangladeshi army means that they can contribute to the Bangladeshi country.
Many young Bangladeshi nationalists prefer to serve in the Bengali army. From here it is possible to participate in security and various activities in Bangladesh and this profession is very popular among the people of Bangladesh.
সেনাবাহিনির চাকরির বিজ্ঞপ্তি ২০২২
However, to participate in a popular program in Bangladesh, certain physical and educational qualifications are required by the Bangladeshi military for those seeking employment for a job abroad. And no job seeker can apply for a job in the Bangladesh army if he or she does not have the physical qualifications for all the training courses.
Those who are interested in working with Bangladesh Army should apply online for Bangladesh Army and fill an application form as per all regulations and submit the application form within the allotted time. If you want to apply for the Bangladesh Army Job Circular , read more below:
সেনাবাহিনির চাকরির বিজ্ঞপ্তি ২০২২

Job employer
Bangladesh Army
Employer type
Govt
Job type
Permanent
Job category
BD Govt Job
Job news source
Bangladesh Pratidin
Publish date
02 June 2022
Total post
63
Total man
238
Educational qualification
See below
Other qualification
See in the job advertisement picture
Job apply method
Post office
Job application the start date
— —
Job application the last date
28 June 2022
Official website
www.army.mil.bd
Online application link
Please view from below
ARMY Job Circular PDF
Bangladesh Army Soinik Job Circular 2022 Official PDF File is published here for those who are looking for Army Job Circular 2022 image. www.army.mil.bd Job Circular 2022 Featured image on command website www.army .mil.bd. Candidates for the Bangladesh army.
If you are looking for a job in Bangladesh army Job Circular then collect all the information from the management report. So we collected the official photos of this report from the Bengal Army Candidate Agency website and posted them here. Check out the official document below for easy and effortless downloading from our ARMY Job Circular website.
বাংলাদেশ আর্মি সিভিল চাকরির বিজ্ঞপ্তি ২০২২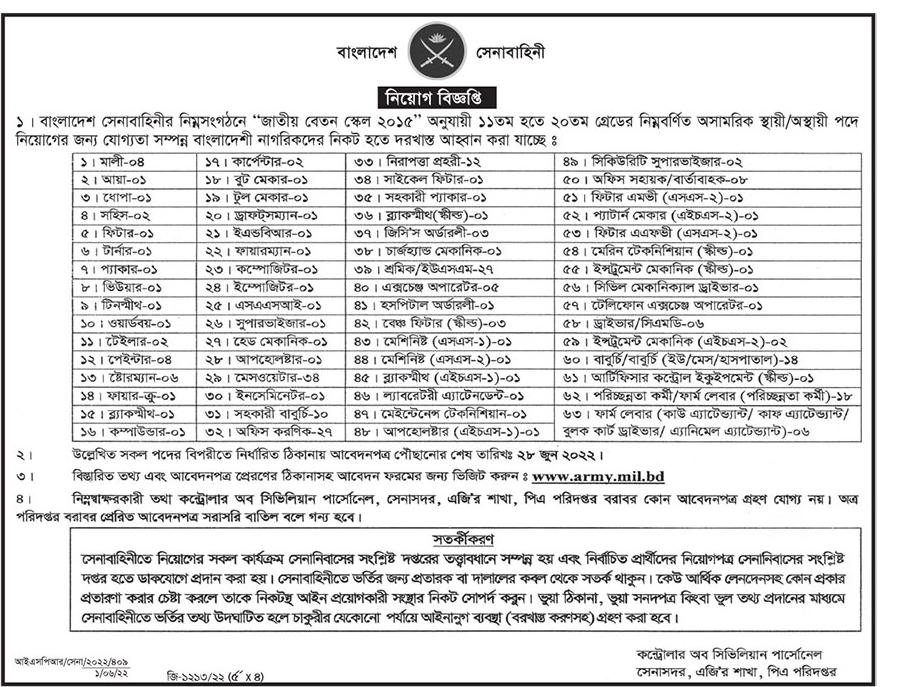 Source: Bangladesh Pratidin,
Published Date: 02 June 2022.
Application Last Date: 28 June 2022.
Army Job Circular Application Form
Bangladesh Army Civil Job Circular 2022 is Available on our website. Interested applicants for Bangladesh Army Civil Services can apply below and apply for this job with correct information. You can also download it from the authorities' website to apply www.army.mil.bd Civil Circular 2022